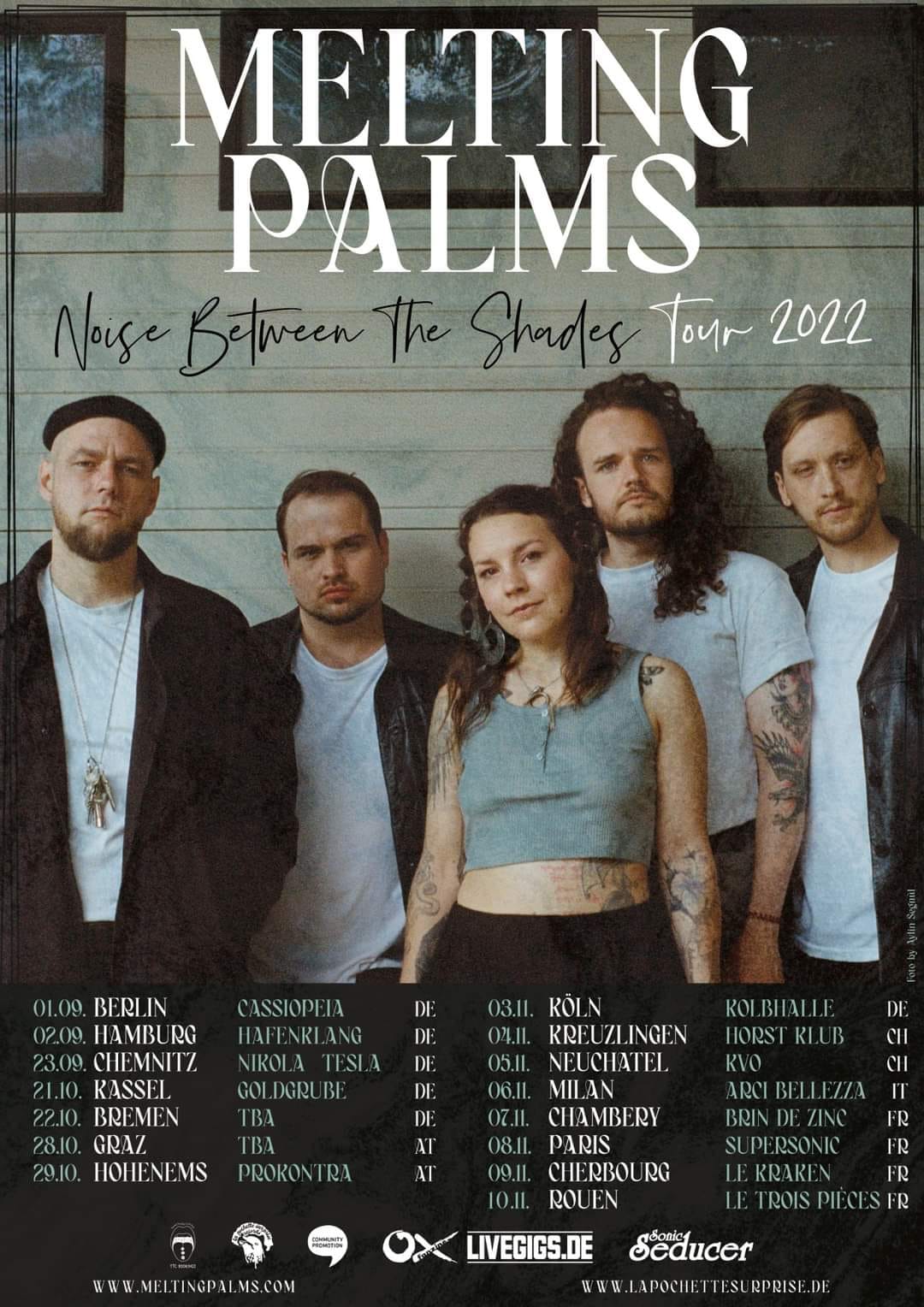 Konzert: Melting Palms
The www finds melting glaciers and psychedelic palm-readers when you search for melting palms. That is about to change. With their second album "Noise Between The Shades", the "loudest group in Hamburg", outstanding winners of the renowned "Krach und Getöse" award 2021, is establishing itself internationally as the powerfully euphoric band of the moment. For five years now, the musicians, more of a collective than a band, have been living out their sound dream in this psychedelic, shoegazing Kraut-Punk-Dreampop. What began in 2017 with Mike, Teresa and Johann led to musical and romantic entanglements, a first EP recorded in a construction trailer, their debut album "Abyss" (2020), concerts and endless sessions in their rehearsal basement on Borstelmannweg in the rather rundown area of Hamburg-Hamm, between animal shelters and street prostitution, to the current band line-up with Tim and Lukas.

"What unites us all is reverb," ​​say Melting Palms. "It doesn't matter which musical corner we come from, there has to be a lot of reverb and delay on the sound, that's our intersection." Open tuned guitars and a connection to boundless pop with the earthy stylistic devices of rock do the rest. The fact that Melting Palms not only played concerts with Sugar Candy Mountain, The Underground Youth and Wand despite the pandemic restrictions and have now also released their second album for Hamburg's style-defining underground label La Pochette Surprise speaks volumes – and is no coincidence.

New beginnings and a keen sense of hope hope are motifs that shine poetically and motivatingly over this second album. "Noise Between The Shades" is an elemental force full of precise detours, as intoxicating as it is daring, with many a surprising twist, both in terms of sound and lyrics. Melting Palms have a common goal, even a socio-political claim: humanism and idealism are a real concern for these five DIY utopians, one that embodies the notorious resilience of the Hamburg music scene in both attitude and aesthetics. The band's own musical signature sound emerges from this special togetherness, a patchwork of many creative energies, the beautiful but also painful noise between the shades that every life guards. A triumph.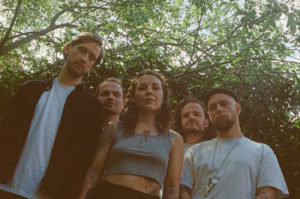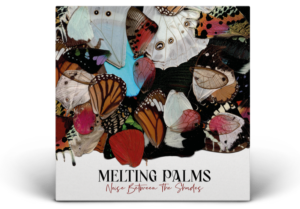 The result "Noise Between The Shades" is an elemental full of precise detours, one is carried away by this audacious sound but also by the narratives of the pieces. The lyrics are about hope and foreboding, melancholy and promise. Melting Palms are not just the the product of a single head, that becomes clear in the songwriting. This is – like the musical input – a patchwork of many creative energies. This is a collective – and you can hear that too.

– Linus Volkmann
Keine Veranstaltung gefunden